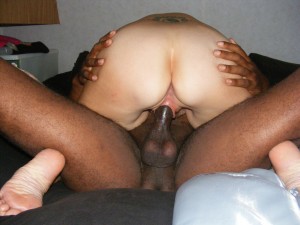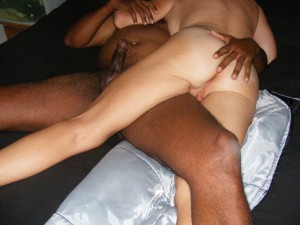 This has been hard to write. Bull bent me over and made me his bitch this weekend. And he wasn't gentle-not for my pleasure for sure but to let me know his BBC owned not only my wife's sweet white pussy but he owned my ass fully too. From now on, I'll have to be prepared to bend over at his command-something I knew all along but he didn't take advantage of until this weekend. My wife didn't get to watch-so now I know it'll be repeated regular because she's always said she wanted to see Bull take my ass.
Back to the story of our last weekend. It was the Christmas present my wife, K, asked for. "Pay for Bull to come see me. You need to see me enjoying his n—-er cock, you sorry ass dicklet." Bull just likes that word so she always reminds me, "this is Ni—er Bulls pussy" as she gives me a glimps of what was once mine to enjoy. "You never gave me the pleasure he does" as she puts a pad over it so I can't even get a feel when she is close to me. "Stand up and spread your legs, dicklet." I stand before her, but only for a moment as she brings her knee up into my groin, "On your knees", as the pain rushes through me. K turns around, "Kiss my ass, bitch. You like that don't you..You know that's all you're going to get. Maybe Bull will be nice and let little dicklet come once next weekend." as she pulls her pants back up over her tight little ass and walks away. "Now email Bull and let him know you'll pay for his gas and take the day off work to serve us if he can come down."
It's Friday night. Bull should be here by now. Phone rings, "Babe, I'm down by Vero." He had missed the turn off the Turnpike-an easy one to miss and ended an extra hour away. She gave me the phone, "Tell him the best way to get here." I take the phone and give directions. She is already hot and waiting. "Baby, I can't wait for you to get here." as she takes back the phone, "I want you BBC so bad." She hangs up the phone. "Stay on your knees. Look at me-this is what Bull gets tonight. You have time to massage me a little, "Isn't it nice I let you touch me for a while-it's your present for having Bull come see me."
"HE"S HERE!!!" She runs to the door to greet him, Her hands are hungry for his BB Ni—er cock. It's less than a minute before the pants are at his ankles and "Come here, boy" is commanded as he disrobes my wife in front of me. "You missed that Ni—er cock, didn't you boy." He pulls my head toward it, "Suck it bitch" "Damn!!" as he sees my wife nude in front of him. "I've sure missed my white pussy." "Whose pussy is this bitch." as he has her stand in front of me with it in full view. "It's your's, Ni—er Bull." as he insist I call him. "Did she let you have any since I saw her last?" "No Sir She says it's your alone." "Good girl-as he turns his gaze on her." "I have to take a shower" came out of his mouth only to be replaced by-"I'm not waiting that long". And he took her to the bed." "She really wants this inside her!!" as the head of his BBC was touching her sweet white hole. "I've been without this too long. Put me in her, bitch, and play with my balls." I reach up and give my wife the present she asked for-her eyes roll back, and she takes it all in. "Tell him who owns your pussy." "You do" as she begins pumping into him. "Kiss his ass and thank him for coming." I do as I'm told being careful not to let go of the ball play he commanded. Soon all that can be heard is the rock of the trailer and her moans as she cums several time in response to his loving. Finally, "Get ready for this load-it's going to be big" as he gently groans in release. "Oh God-you could never do that for me, Baby." "That's why that pussy is mine now. Clean it up, bitch."' The thick cream almost made me choke as it streamed out of my wife's filled pussy. "Better get every drop," she said. "That's the only way you'll get that pussy ever!!" "Your sooo good!!" as she melted into his arms-their bodies fused together as one. It was only minutes, and Ni—er Bull was sleeping-exhausted from the long drive and unloading. I was allowed to lie on the other side of the bed-my wife remained wrapped in his arms.
The next morning began with the sound of my wife again moaning with pleasure. Just the touch of bull fondling his hot box-she was wet all over the bed. "You're going to have some sheets to clean, bitch" Bull instructed me. "It's time for you to put me in her again." as she rolled over to take him doggy style. "Put that big black cock in me, dicklet." K commanded. I watched as she came over and over, her gush flowing down his thigh. "God, he makes me feel soo good." as she fell to the bed exhausted, filled with another load of ni—er come. "You know your job, bitch. This Ni—er Bull was really full for his white pussy." I went down to the otherwise forbidden zone, my nose up her ass and my chin against the soaked sheets with thick cream again gushing into my mouth. Bull went to take a shower.
"Keep it up until I come back. And lick that ass so she can relax."
When Bull returned, K decided to take a shower. Bull and I sat talking about the weather, the cost of oil, and other such topics until out of the blue, Bull says, "On your knees and suck my balls." I crawled from the other side of the table to where his black balls were exposed. " Get on them, bitch. You know how I love my balls sucked." "K's pussy sure was good this morning. Did you see how she was bucking to take my big ni—er cock? She's never done that for your wimpy thing, has she?" He laughed-you're so pathetic but you're good for something" as he pulled my head forward, "You sure make my balls feel good." He sat back, "Keep it up bitch.". Suddenly he pushed my head away. "I'm going to take your ass now, bitch. It's time you learn it's mine. Go get the lube." I did as I was told. He put a condom on. "Bend over the chair and spread those cheeks" I fearfully did as I was told. I felt the hard head of his cock against my virgin home. "You're going to wish you listened to me when I told you to prepare it for what was coming." as I felt the pressure of his large tool pushing into me I felt like screaming but somehow held back. He wasn't gentle-his rod pounded into me. "I told you you were going to get it." How I wished he would be a little gentle. "You like it don't you bitch. I found another thing you're good for." And then he pulled back-but the pain remain. "You know, bitch, I'll be taking you ugly ass any time I want from now one." as the paddle came across it. "Your mine" and the paddle again landed. A few more hard strokes and Bull decided it was enough for now. "On your knees and kiss my ass." "Good little bitch."
We were both dress when K returned. "I took his ass while you were gone." A smile came on her face. She had wanted this to happen. "It hurt, didn't it, Bitch." "I wasn't gentle like I am with you-I just made him take it-deep and hard.. That's how it going to be bitch." declared Bull. "Whenever he wants it!!," torted K. as she pulled him into her and a long passionate kiss followed.
"Where would you like to eat." Bull and K decided on a little place by the river. None of us had been there before but the view was good. K put on a white shirt with a figure in black of a lady riding a big black bull. Her and Bull sat in the back and had me chauffer them. She walked proudly into the restaurant with Bull. I followed behind a few steps. The waitress with the English accent took the order-I felt humiliated. I knew she knew what the situation was. It became real obvious when she handed me the check after the meal. I was thankful Bull and K didn't do anything more to show what a pathetic dicklet I was. We then took a drive about and showed Bull some the area.
When we got back to the house, Bull and K were both quite hot and ready again. Bull made me stand in the corner. He let me touch myself for the first time in his presence. "Get it hard. Two fingers stroking only" "Show him my pussy" K opened her legs to expose her swollen lips. "You're never going to get it again but I'm going to be nice. Make that little dicklet cum looking at it." My wife spread in front of me, "You know this belongs to Bull." as she spread the lips. "I want to see you cum, bitch." demanded Bull, "I know you can't control it long enough to please her." I came as he was still speaking. "You sorry little thing. You couldn't last long enough for his first orgasm." " How many times did you cum this morning, Babe." "I quit counting at three" as she turned away and began sucking his lovely tool. "Watch how a real man takes care of a woman." as they turned their attention away from me and into each other. I watch as her eyes glaze over as she gives herself fully to him, his big black ni—er cock penetrating deeply into the pussy of my desire. I stand and watch, listen to her making the sounds she only made when using the vibrator when with me. I see her shudder time and time again before he finally lets out a low groan and unloads again inside her. "Do what you're good at." as he rolls off and they cuddle. I hear her whisper, 'You're the greatest." as her body again vibrates at just the thought of how good it felt.
I have to go to work the next morning. "I'm going to watch him bend you over next time." as K squeezes my balls hard, "Don't forget to give him the gas money before you leave." She turns away back into his arms. She looks back at me, "Get use to it baby. He's so much better than you. I know you'll thank him for making me feel so good. Thank you for a great Christmas present."